Is All the Good TV Now on Cable, Amazon and Netflix?
If you have been reading the news for a few decades, as I have, you have learned a rule of thumb about headlines that ask yes/no questions.  The answer is, No.
The Golden Age of TV that I have mentioned here talking about shows like Better Things, You're the Worst, Grace and Frankie, Mozart in the Jungle, and more... well, the old Big Three Four networks have not entirely missed the boat.  Here are some recommendations based 100% on nothing but my unvarnished opinion.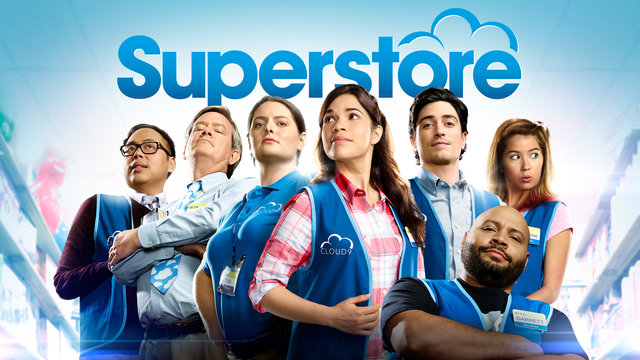 Superstore (NBC) An ensemble show about a thinly-disguised Walmart clone called Cloud Nine, and the only two non-loony characters have a delicious sexual tension going.  One of the best things about this show is the hilarious three- to five-second throwaway clips between the scenes.  Shout-out to Mark McKinney for playing the store manager Glenn, and also Josh's stepdad Tom in Man Seeking Woman*, and pulling both off beautifully.
Life in Pieces (CBS) Each week a collection of four short episodes in the life of a really whacko family.  They come by it honestly, as you can tell from the grandparents, who are played to the wonderful edge of insanity by Dianne Wiest and James James Brolin.
Mom (CBS) Somehow this dodged the Curse of the Bright Shiny New Place to Live, and is still going strong.  Allison Janney and Anna Faris play a mother and daughter in AA recovery together.  Side-splitting funny, right?  It actually is.
Elementary (CBS) A full transplant of the Sherlock Holmes legend to modern NY City.  Lucy Liu only reminds us once in a great while of her bad-ass side, but it's enough.  And without the writers taking the obvious low road of sexual tension between the two main characters, their friendship is pure and beautiful.
Lucifer (Fox) Turns out, the Devil is the one to root for.  Turns out, the Devil is the divine agent not of Evil, but of Fairness.  He may, in fact, be the only truly good and moral creature his Dad ever spawned.
The Real O'Neals (ABC) While this is still hitting a lot of sitcom clichés in the middle of its sophomore season, it's also a consistent lesson in how morality has nothing to do with religion and everything to do with love and empathy.  Our worlds, large and small, can benefit.
I really don't know what I would do without TiVo!
---
* - Josh got married in Man Seeking Woman's season finale. By rights, this should have been the series finale.  If it comes back for Season 4, it's a shark-jump you can see coming a mile away.  I'm looking at you, Veep Season 6!