Great American Backyard Burger & Rib Festival
We went to this event today to see how things look in the Great American Backyard. Here's some of what we found.
The most delicious food we've had at a festival in a long time came from what I have to admit was one of the least impressive setups.  This is Big Dawg, a local picnic caterer, and they were serving a no-frills menu of burgers, hot dogs, chicken, salt potatoes, and sweet corn.  Everything was cooked fresh and everything was cooked perfectly.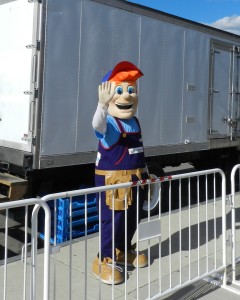 While we were eating I almost spilled my drink on my camera in my hurry to get a shot of this puzzling mascot.  He was going on break but he did grant me a quick pose on his way back to get out of that hot suit.  He was lucky, it was a very mild 76F today.  Could have been a lot worse, in the second half of August.  My problem is, this image of a red-haired guy wearing a toolbelt is completely mystifying to me.  I have absolutely no idea what he's there to plug.
Nick Tahou's is a Rochester tradition.  If you have never been around here, it may need a bit of explanation.  Nick Tahou's makes a dish that is appealingly named, The Garbage Plate.  The classic Garbage Plate will consist of home fries, macaroni salad or baked beans, burgers or hot dogs, meat sauce, onions, ketchup and/or mustard.  All just kind of tossed on a plate.  Legend has it, it was named for the fact that it looks like something you're taking away from the table to scrape into the bin, not something you order in a restaurant to eat. So Nick Tahou's was there, even though Garbage Plates don't strike me as something that will be whipped up in a backyard grilling session.  And they wanted to be very sure we all remembered what country Rochester, NY is in.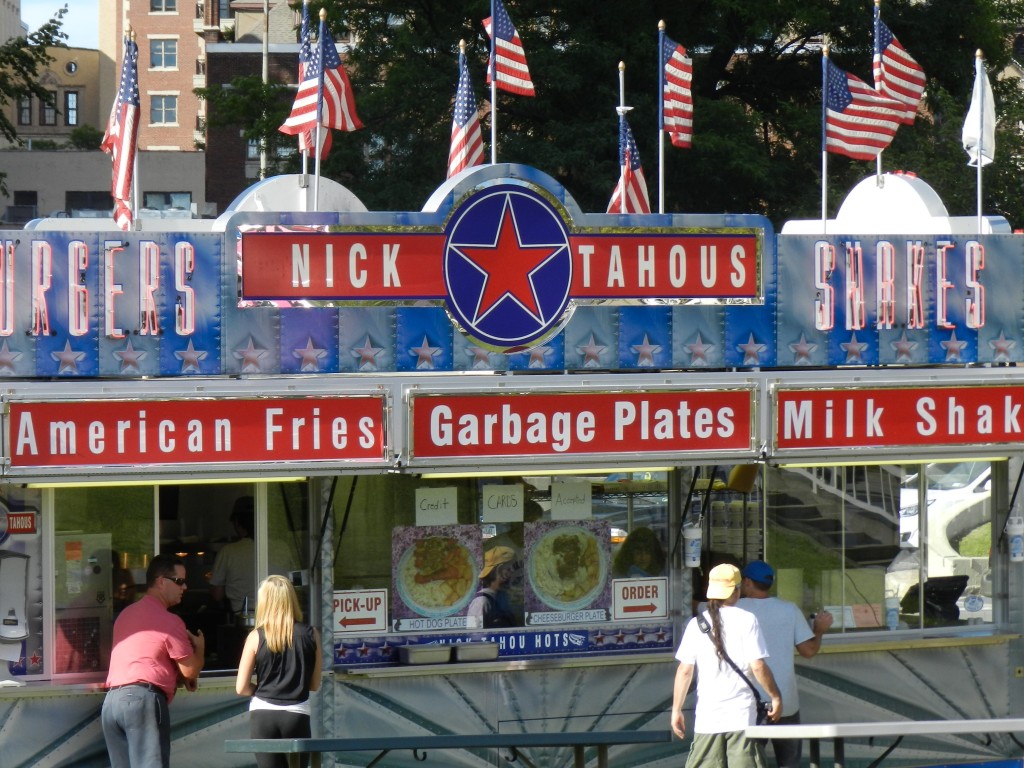 Only American Fries are available.  None of that sissy French crap for good 'murricans!
Not to be outdone in specious displays of hyper-patriotism, we had another food truck run by Military Moms.
These Moms want you to know what all good military families know: Men go off to war, and the womenfolk stay home and do comfort food, pink things, and the ironing.