Chain of Random Things to Think About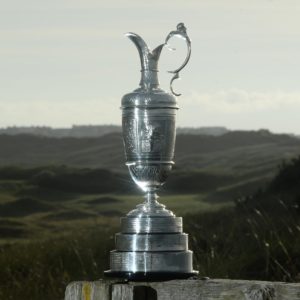 I'm watching the final round of the British Open.  It's being played this year at Royal Troon.
Phil Mickelson is, as I write this, one stroke back of Henrik Stenson.  Nobody else looks like they have a shot - it's about ten strokes back to 3rd from where Phil and Henrik are playing.
Based on history, you have to give Phil a good shot to win.  An American has won the Open at Troon every time it's been played there dating back to 1962, when Arnold Palmer won by six strokes.
The 1962 Open was the first one shown on American TV but it was on a tape delay.  Two days!  Two days? Why?  They had to fly the tape back to New York.
On the day before the 1962 Open teed off, Telstar was launched.  The day Arnie won the Open, Telstar was not yet quite ready for public use - it was still being tested.
Telstar was the first communications satellite.
https://youtu.be/R0jUvufQgQo
And also, an eerie-good tune.