The golden age rolls on!  I have been a huge fan of Susan Sarandon since Rocky Horror Picture Show.  Atlantic City.  Thelma and Louise.  The Banger Sisters.  And that's just off the top of my head.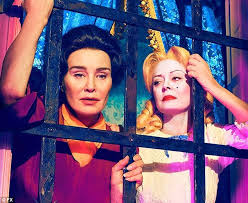 And now she inhabits the role of Bette Davis in
Feud: Bette and Joan
, a dramatization of the making of
Whatever Happened to Baby Jane
.  Oh do yourself a favor and get with this, if you are not already!
Of course it's not really all down to Susan.  Jessica Lange is also incredible as Joan Crawford.  Judy Davis as Hedda Hopper steals every scene she shows up in.
But.  Susan.  Damn.