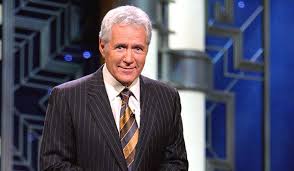 Jeopardy! season 34 premiered last night. As much as I love playing along --
basically, shouting out answers
-- I find Alex Trebek more and more grating every year.
There was the talk that he'd retire after the 2015-16 season, but here he is still, two years later and with another year to run on his contract.
Another season of cringing at the over-pronunciation of any French words in questions or answers.  Yes, we know you're from Canada.  Of crappy accents on any foreign puns.  Of lame jokes and veiled insults to the contestants during the terminally-awkward interview segment.
At some point my hatred of Trebek may overtake the enjoyment of the actual game.